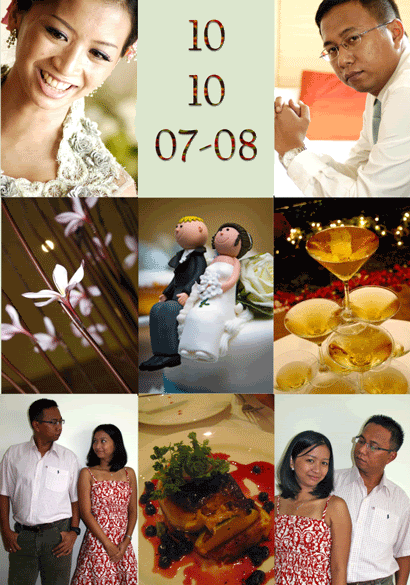 - Looking back, I am grateful that we could celebrate the one year ocassion over the weekend trip he made.
- We had a shared foie gras at a resto next door, which was sublime :) nyam - nyam. i still can remember how the soft duck melted in my mouth :)
- After one year, we discovered that both of us had much saving ... in kilograms of weight, that is... hehe. he couldnt fit into his pre-wed shirt anymore, and me, of course u can instantenously see it from my cheeks :)
- We have a wish for next year. Well actually 2 wishes. not to tell out loud for now. but I do hope both will happen smoothly.
- Mundane Conversation we had:
A: Honey, how much do u love me
B: As much as the US Bailout plan
:)
Happy Anniversary Darling!